BF2
This lightweight Honda is the only Four - Stroke two horsepower outboard available in today's market. It is ideal for tenders, small fishing boats or as auxiliary power. The BF2 is quiet and simple to run and there's even a model with neutral so you can sit idling at dockside.
2D4SC
15 inch shaft, lever throttle

2D4SCHC
15inch shaft, twist-grip throttle, neutral gear position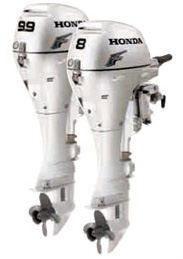 BF9.9
The Honda BF9.9 delivers high torque and overall performance in a lightweight, compact package. Available in 7 models including short, long and extra long models. Electric start to fully remote with power-tilt, there is sure to be one to meet your needs.
9.9D3SHC
15 inch shaft, tiller-type, manual start

9.9D4LHGC
20 inch shaft, tiller-type, electric start, gas-assist tilt

9.9D2LHC
20 inch shaft, tiller-type, manual start

---
BF8
The Honda BF8 series offer high torque and excellent overall performance in a lightweight/compact package.These Honda outboards utilize an all-new twin cylinder, in-line, OHC design powerhead. World renowned Honda quality combine with proven reliability, quiet operation, low emissions and superior fuel efficiency. And there's never any gas/oil mixing.
8D3SHC
15 inch shaft, tiller-type, manual start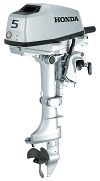 BF5
The BF5 offers the convenience of forward, neutral and reverse gears and much greater cruising range with a remote fuel tank. The Honda BF5 is designed to deliver high torque in a lightweight/compact package. It is ideal as auxiliary power for smaller sailboats and medium sized fishing boats or as reliable power for tenders and small fishing boats.
5A4LC
20 inch shaft, tiller-type

---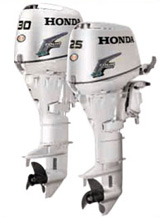 BF30
With a whopping 552 cubic centimeter displacement, this engine delievers more torque throughout the entire rpm range. In addition, we added a longer/multi-function tiller handle (tiller-types), auto-choke for turn-key starts, gas-assist tilt and we have also added a power trim and tilt model. Idling, throttle response, fuel economy and overall smoothness and power of the new BF30s is remarkable. The BF 30 is perfect for 14 ~ 16 ft open fishing boats, pontoon boats and small runabouts.
BF30DK0SHGC